I want to give a huge write up… my complete experience. It was a roller coaster ride and I don't want to miss a moment of happiness.
I just have one question; if I do a write-up for 1000+ words will CTC sue me…
I had a max of 1 hour sleep before the night of the trek. I had to put my baby to sleep at my mothe's home before the trek. She slept @ 1:30 and I had to get up at 2:40, got ready and go to my house to wake my hubby get him ready and reach Tidel @ 3:45
Roller coaster ride DROP #1
I banged, horned, called a hundred times to wake my hubby from his sound snoring sleep, it took me almost 20 minutes to wake him up… Middle of the night standing outside a house and banging like that was awesome… finally I was at the verge of breaking the bedroom windows which faces the street. I started banging it with my car keys… frustrated I couldn't ever reach it to bang it.
All the time only thought that was haunting me was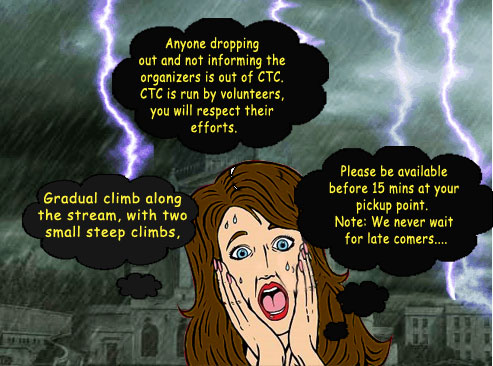 Finally the magic words ringed in my ears. "Yes ma I am coming" … wow finally he was awake. He got ready in 10 mins and we were hurrying back to my mom's place to drop the car. By that time Hari our Tidel park coordinator, was at the verge of leaving us… at least our delay should have motivated him so much to do so because I had 8 missed calls by then. When I got in the bike we realized we had only one back pack. I told my hubby "OMG what if we are sued if we are not carrying individual back packs" because I read in the prep mail each should carry their backpack. So we hurried back home to get another back pack but landed up with some outstation baggage and hurried to Tidel (thinking lets manage).
J Hari and the Tidel team were waiting for the two new late comers (that's us). My hubby couldn't find a parking place so one of the CTC members suggested that we have plenty of parking available in Koyambedu… so the bus will start and please tag along to Koyambedu. We have reached Koyambedu but my hubby has not arrived… I fished for my mobile and found it had 12 missed calls…
Uff Uff Uff it was from Mr. Ajith Kumar… at his heights of frustration. His vehicle was out of gas and all the money was with me. But for the love he still has deeply buried inside his heart… with tons of anger he still caught an auto and arrived at Koyambedu… by that time we were thoroughly tagged the "Late comers".
Never mind now we are into the bus and Biju cannot chuck us out at this point now.
Roller coaster ride DROP #2
It was a whole bunch of youngsters, and I was like the odd man out. Especially when I reached Tidel, the kind of look one guy gave me, I was about to guess… what was running on his mind. Let me guess "Hello madam this is a trekking trip bus and not the local transport that goes to Gummudipoondi" J
Ha ha ha… never mind as if I usually do.
My first inspiration was Mr. Minak who took the initiative and spoke a few words of encouragement. Infact whatever he spoke was very encouraging starting from a "Hi". He welcomed us… and wished us good luck. I wish Biju had asked me whom you like the most in this Trek during the Intro session… I would have said Minak sir… because after seeing the young crowd I thought of jumping out of the bus and running back to home if not for a welcome note from Minak @ Tidel Park.
Roller coaster ride DROP #3
Finally @ Koyambedu… my hubby arrived in auto… with all the other people loaded into the bus we were all set to go.  The organizer was talking to a few others at that I time I guessed he should be Mr. Biju was having a heads up with other eager CTC seniors on how this Trek is going to be…
He was telling "I don't know, it depends on the speed of the group… I may divide the group into 4 may be two… the fastest I can take them to the fourth pool and if time permits I will take them to the peak". The rest can stay near the second or the first pool… L I feared I will be the only person who would be left behind, what If I don't reach even the first pool. Do I have to sleep in the bus because I couldn't make it… Too many fears my mind started creating and it was like the walls were closing in on me. By the time I could regroup my thoughts I was into deep sleep… I woke up at the Poondi reservoir we stopped to enjoy the beauty and serenity of the dam… Took some group snaps. And left to Nagala… I was sitting near the Bus driver and could hear his yammers… Where are we going? And one person said "Athu oru kadu anna dam thandi irukku".
We got down the bus… snacks and lunch was distributed, and we started packin. Instructions were given. We walked walked and walked no sight of streams… I could hear Varun(our youngest member questioning his mother from behind, "When will the wter come ma?", rather that was the same question running on my head. I guess we would have walked around 3 km. I was exhausted; I thought I am going to give up… so soon. But my hubby kept motivating me… stood by my side and we lost the trails several times but someone kept coming along and we tagged along. As and when we moved in deeper I was able to keep up the pace. I started enjoying after taking a dip into the stream a new found energy. From then on nothing stopped me…
Roller coaster ride DROP #4
As we got deeper, it no more looked like an initial terrain… as Rakesh mentioned we lost trail at a point of time. Before reaching the second pool, we were at a no where point… Every place seemed dense… The last two seeded volunteers started on different sides to find a trail… Finally we found one and moved along just a few paces ahead we saw the rest of the group waiting for us. I couldn't remember exactly where was that one steep climb was it before or after the second pool. But definitely the most thrilling for a fresher like me. I did make it too… I could see Biju from the top helping people one by one and asked me "Will you make it?". All I could answer was "I don't know". I was murmuring "Enna koduma Saravanan ithu" and Saravanan was right beside me and he said "I too don't know" Coincidence
We reached the third pool, I was completely exhausted. Saw the climbing path to the fourth pool felt contented happy with whatever I got and sat down for a great sightseeing with a bunch of bravoes jump into the mega pool from various heights. And few brave souls visiting and returning from the fourth pool. Next time I will be one of the bravos.
Walking back was not difficult in fact my pace increased or maybe that's the way it is. I forgot to get some snaps… was dealing a lot with fatigue and recovery and enjoying the lost trails. I would love to share a few self-answered questions that I learn t during this trek.
Self learning
Will I be sued for not carrying my own backpack? Should everyone carry an individual backpack?
No I was not sued. No if you have your better half in the trek… he can carry the load. J One backpack will do.
Will I be able to do a trek?
Yes with the right attitude and constant motivation I reached the third pool. Thanks to Biju's initial words even before I paid my advance "It's all a matter of Mind over Body".
Can you come late to your pickup point?
No. We still consider we are the luckiest.
Should I listen to the Organizers?
Yes, organizing a trek with 81 people is not so easy. Biju sir was really a great "Thala". Being in management and when fresher's do not follow the instructions, I really could say what it is like? To accept Biju as a leader by a bunch of freshers is possible only if you are true leader.
Why do some people take pickle during the trek?
You may get cramps… which are mainly caused by dehydration or simply the loss of salt from your body. Pickle is an immediate booster pack replacer for avoiding cramps.
Note: Answered by Saravanan. I just over heard. Check the facts with him
should I change my dress often? I mean like after every dip?
Not required, I enjoyed walking soaked especially with the scorching sun… it was a pleasant experience
Should I need a pair of extra sandals to walk along the water?
I didn't need it, but apparently my Rbk shoes were completely torn @ the end of the day. It gave the best, as one member pointed "Your shoes speak your trek walk".
Thanks to Hema (our HR) who introduced me to CTC. Thanks to Biju for short listing me and giving me an opportunity and being a motivation throughout the trek. Thanks to every single hand who lent me to move along the trek and reach the third pool. Thanks to Minak for welcoming us to the Trek. Thanks to my hubby for his continuous support through my life and this trek. Thanks to Lavanya and Saravanan for adding me to their FB. I would love to join all the easy treks / coastal clean ups / cycle rides / social treks in future. Thanks to all of you for making last Sunday the best till date. Easily I could have become a burden… carrying a heavy body against the forces of gravity… hats off to me, and the wonderful support by the volunteers. Especially the motivation from Biju Sir, Minak Sir, Rakesh, Saravanan and few other great souls whom I couldn't remember the names but were too great to help me out.
I may not be a great socializer… but I am a great company to spend time with… After pregnancy and post pregnancy complications I added a lot of extra pounds to my build. Life became a tremendous pressure with Office and baby care.  She is one super dooper hypero hyper kid.
CTC's Nagala trek was as stress buster and was truly an inspiration. I loved the energy in the crowd. Everyone was willing to do everything within their limitations.  A million thanks to CTC's magnificent efforts.